The world's most prestigious news outlets turn to Johns Hopkins experts for insight on the day's top stories and trends. The multimedia studio provides newsmakers with a live digital link to television and radio networks across the globe.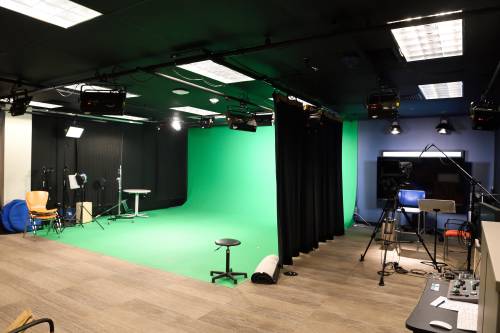 For news media
Live and recorded interviews are transmitted via the Vyvx fiber network, dedicated ISDN lines, and internet streaming. The studio is available for guests affiliated with Johns Hopkins University, Johns Hopkins Medicine, and all other Johns Hopkins entities. There is no fee for studio services. Media outlets are responsible for Vyvx booking and associated costs.
How to find us
The studio is located at the Johns Hopkins at Keswick campus in Baltimore's Hampden neighborhood:
3910 Keswick Road
Suite N-2600
Baltimore, MD 21211
The best way to come in is to look for the intersection of Keswick Road and Craycombe Avenue (along Keswick between 37th and 38th streets). Right across from that intersection is an entrance to the Johns Hopkins at Keswick facility. Take that entrance and then turn right to go uphill. At the top of the hill, you'll sweep left and then you can turn left into a parking area. Look for the visitor spaces.
Technical information
Studio Hotline: 443-805-5320
Vyvx
JOHNS HOPKINS UNIVERSITY (NOT "JOHNS HOPKINS HEALTH SYSTEM")
3910 Keswick Rd N-2600
Baltimore, MD 21201
Circuit ID: 38TBGS010007MD
Feed Format: HD-SDI 1080i
IFB: 443-997-3053
PL: 443-805-5320
ISDN
Spids: 410-467-0260; 410-467-0261
Circuit ID: 38IBZD.116061.MD
Codec: Mpeg Layer 2, 128 kbps, stereo (Alternate codecs are available by request.)
PL/Technical: 443-805-5320
Contact us
Book the studio online or send email to video@jhu.edu.